Jets' Saleh noncommittal on his starting QB after Wilson was pulled for Boyle vs. Bills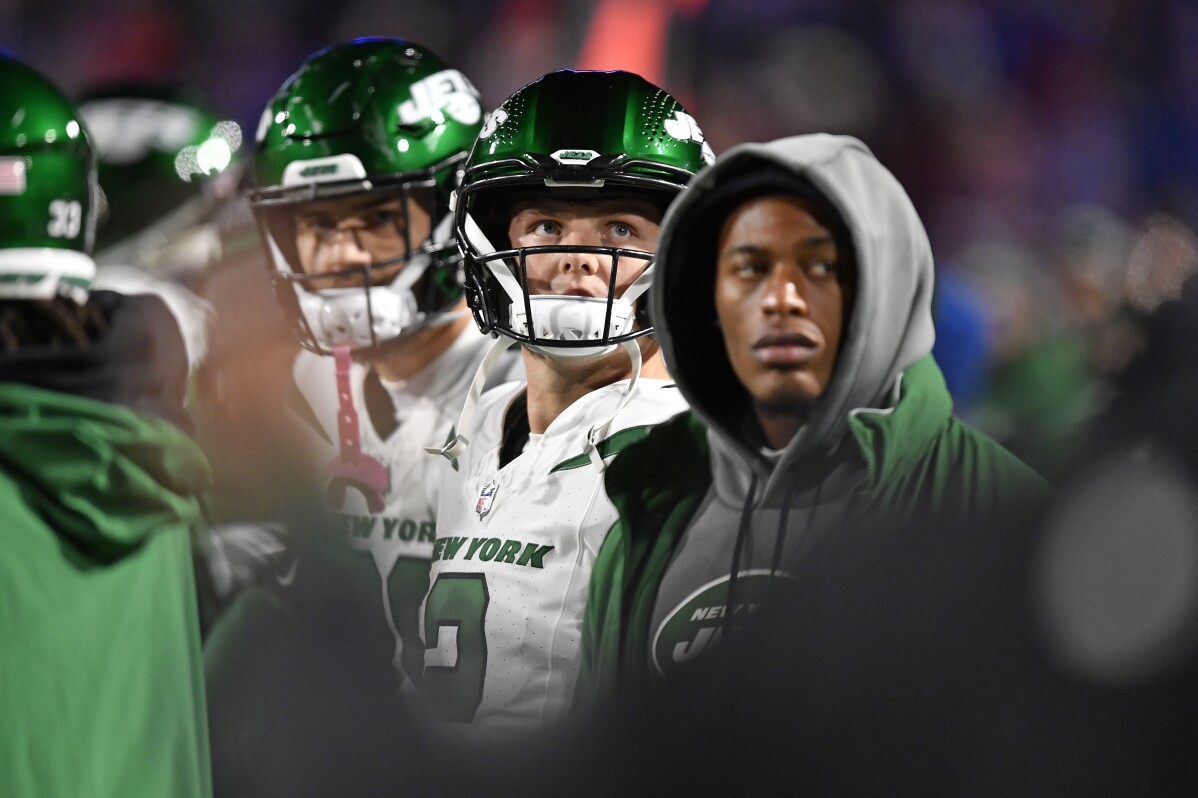 1 of 7

|
New York Jets quarterback Zach Wilson, center, stands on the sidelines after being pulled from the NFL football game against the Buffalo Bills during the second half in Orchard Park, N.Y., Sunday, Nov. 19, 2023. (AP Photo/Adrian Kraus)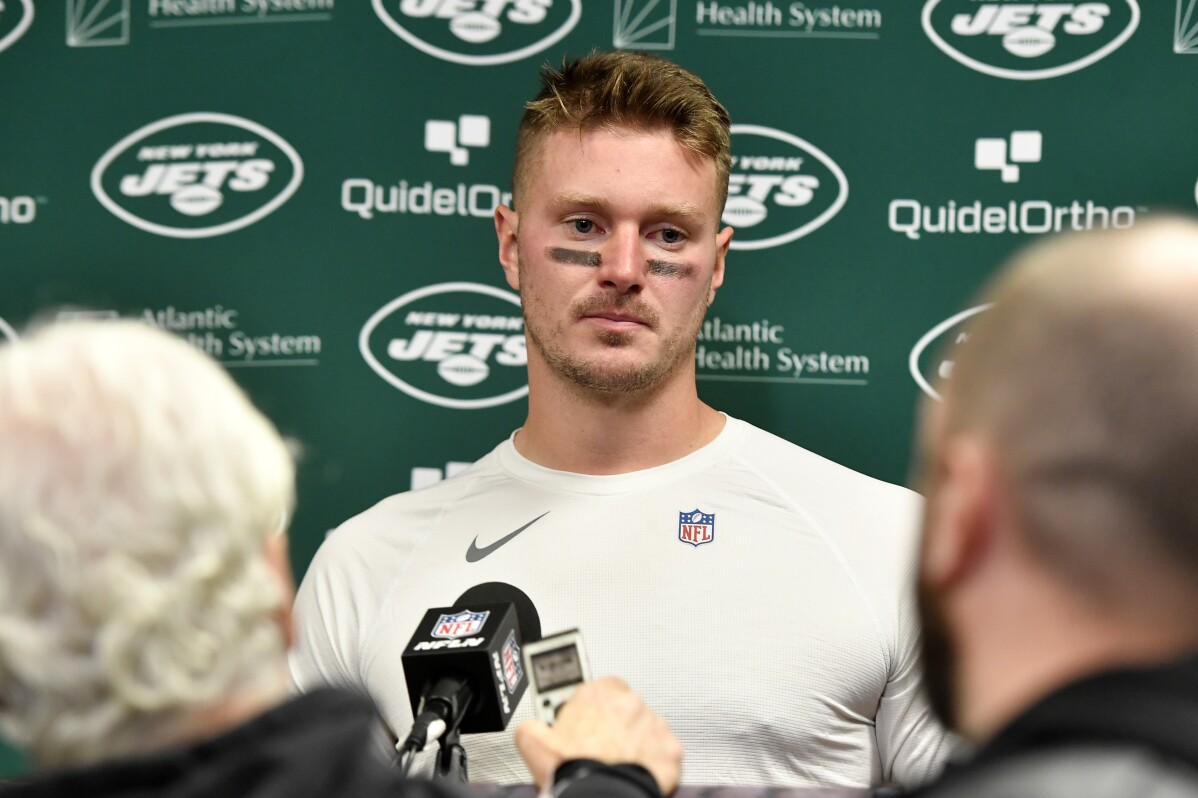 2 of 7

|
New York Jets quarterback Tim Boyle meets with reporters after the team's NFL football game against the Buffalo Bills in Orchard Park, N.Y., Sunday, Nov. 19, 2023. The Bills won 32-6. (AP Photo/Jeffrey T. Barnes )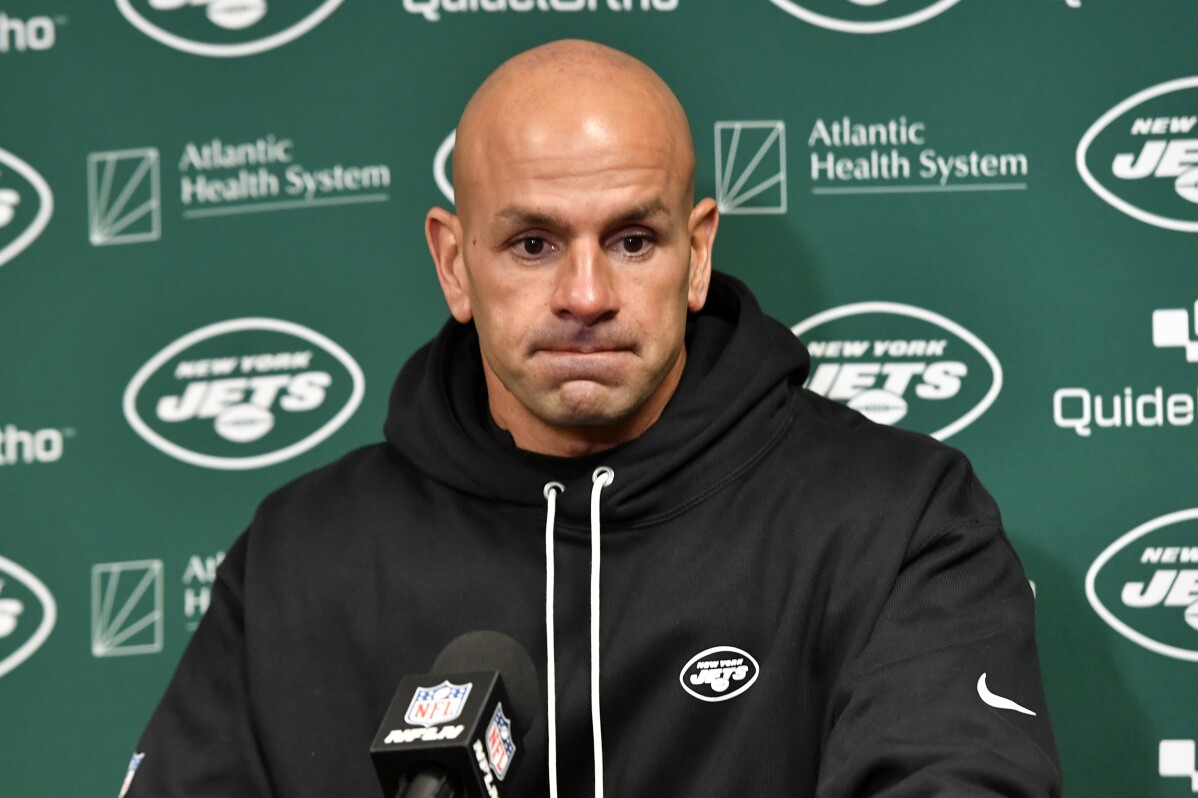 3 of 7

|
New York Jets head coach Robert Saleh meets with reporters after the team's NFL football game against the Buffalo Bills in Orchard Park, N.Y., Sunday, Nov. 19, 2023. The Bills won 32-6. (AP Photo/Jeffrey T. Barnes )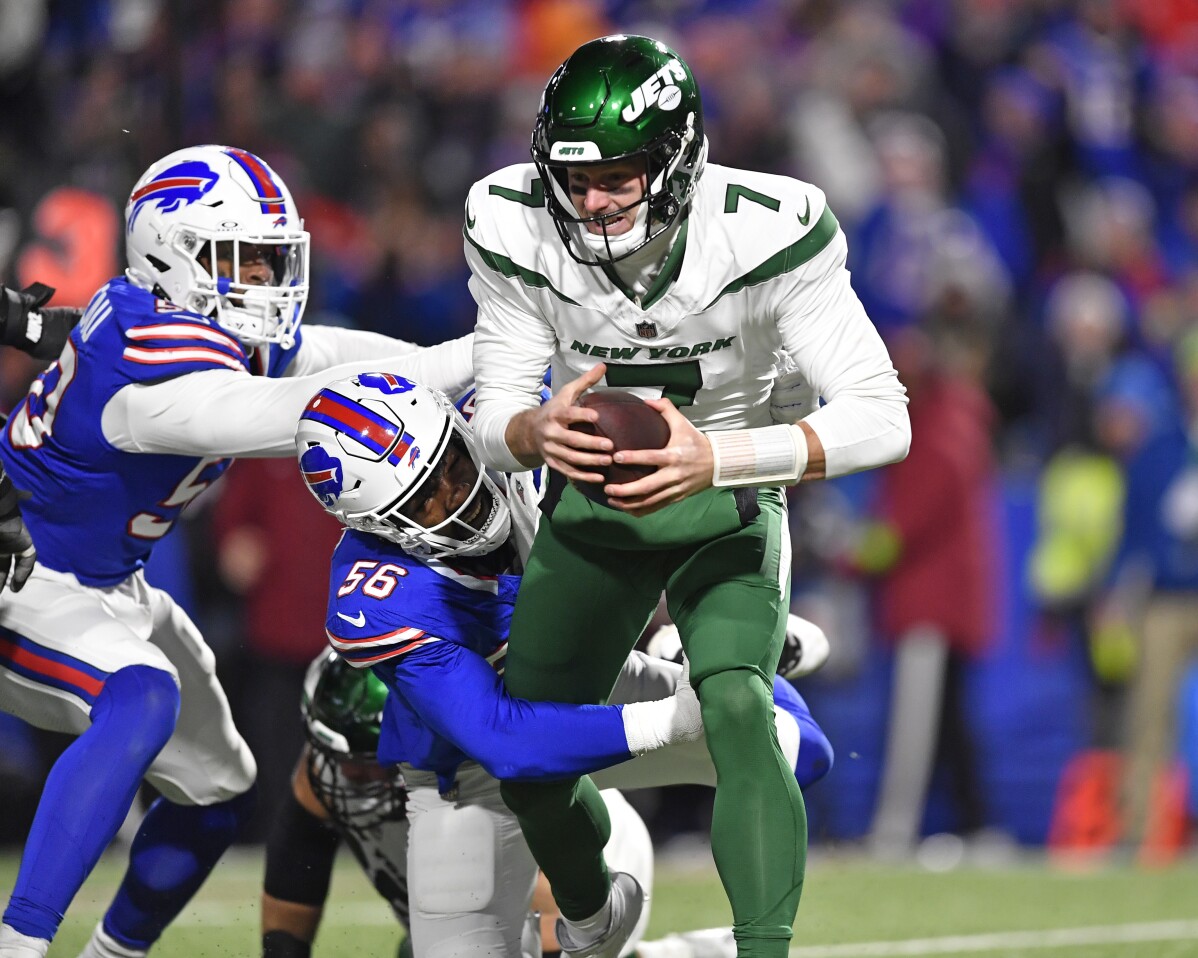 4 of 7

|
New York Jets quarterback Tim Boyle (7) is sacked by Buffalo Bills defensive end Leonard Floyd (56) during the second half of an NFL football game in Orchard Park, N.Y., Sunday, Nov. 19, 2023. (AP Photo/Adrian Kraus)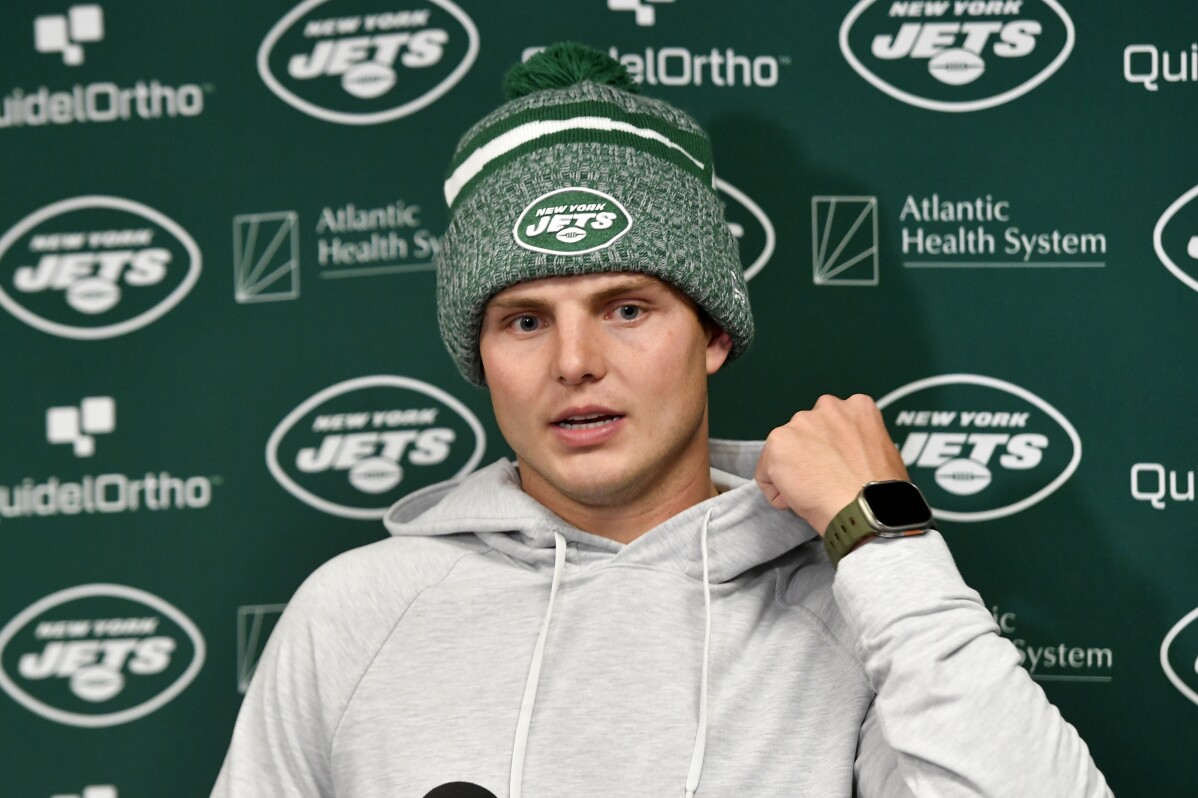 5 of 7

|
New York Jets quarterback Zach Wilson meets with reporters after the team's NFL football game against the Buffalo Bills in Orchard Park, N.Y., Sunday, Nov. 19, 2023. The Bills won 32-6. (AP Photo/Jeffrey T. Barnes )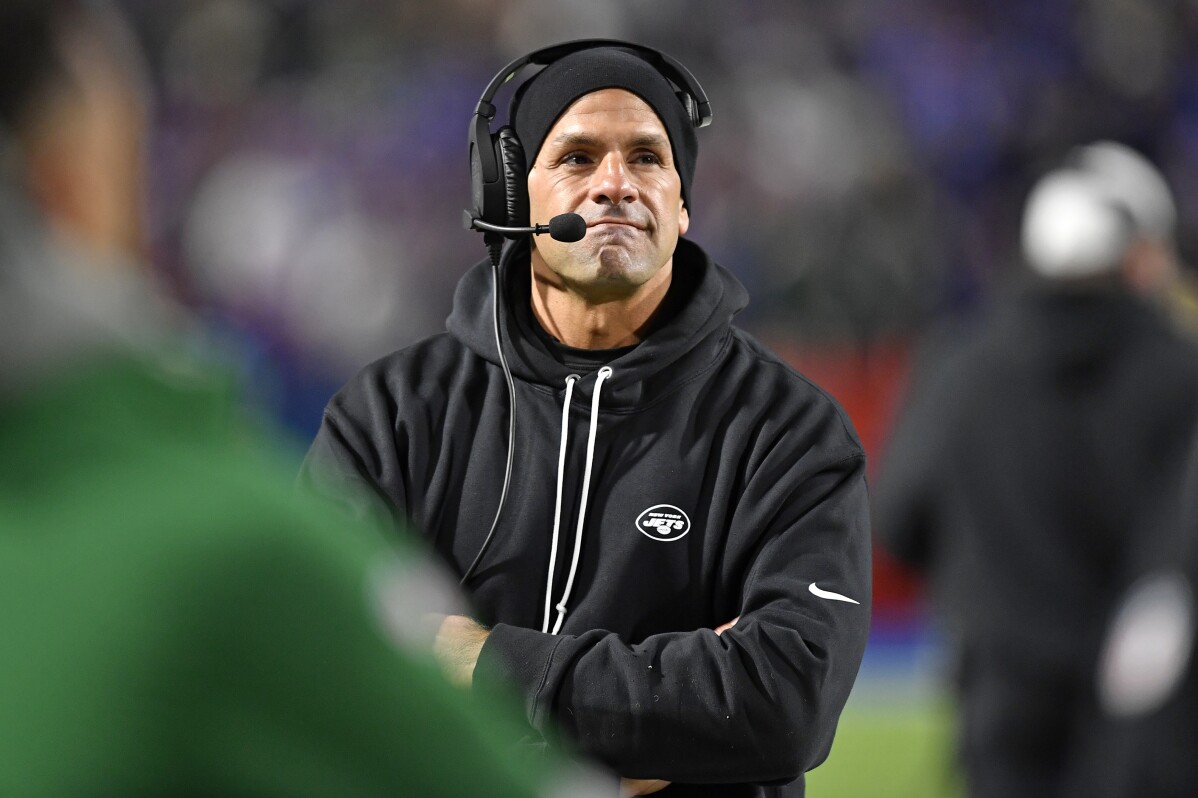 6 of 7

|
New York Jets head coach Robert Saleh looks at the scoreboard during the second half of an NFL football game against the Buffalo Bills in Orchard Park, N.Y., Sunday, Nov. 19, 2023. (AP Photo/Adrian Kraus)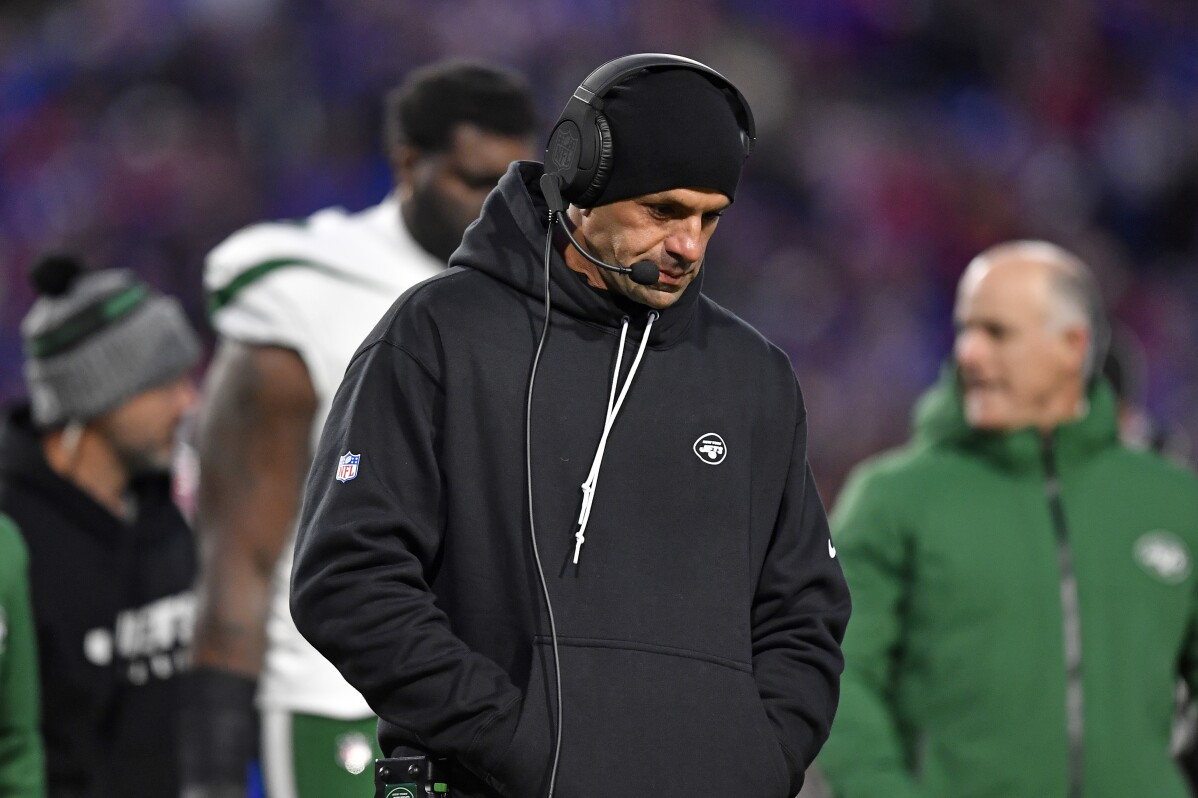 7 of 7

|
New York Jets head coach Robert Saleh walks the sideline during the first half of an NFL football game against the Buffalo Bills in Orchard Park, N.Y., Sunday, Nov. 19, 2023. (AP Photo/Adrian Kraus)
Jets' Saleh noncommittal on his starting QB after Wilson was pulled for Boyle vs. Bills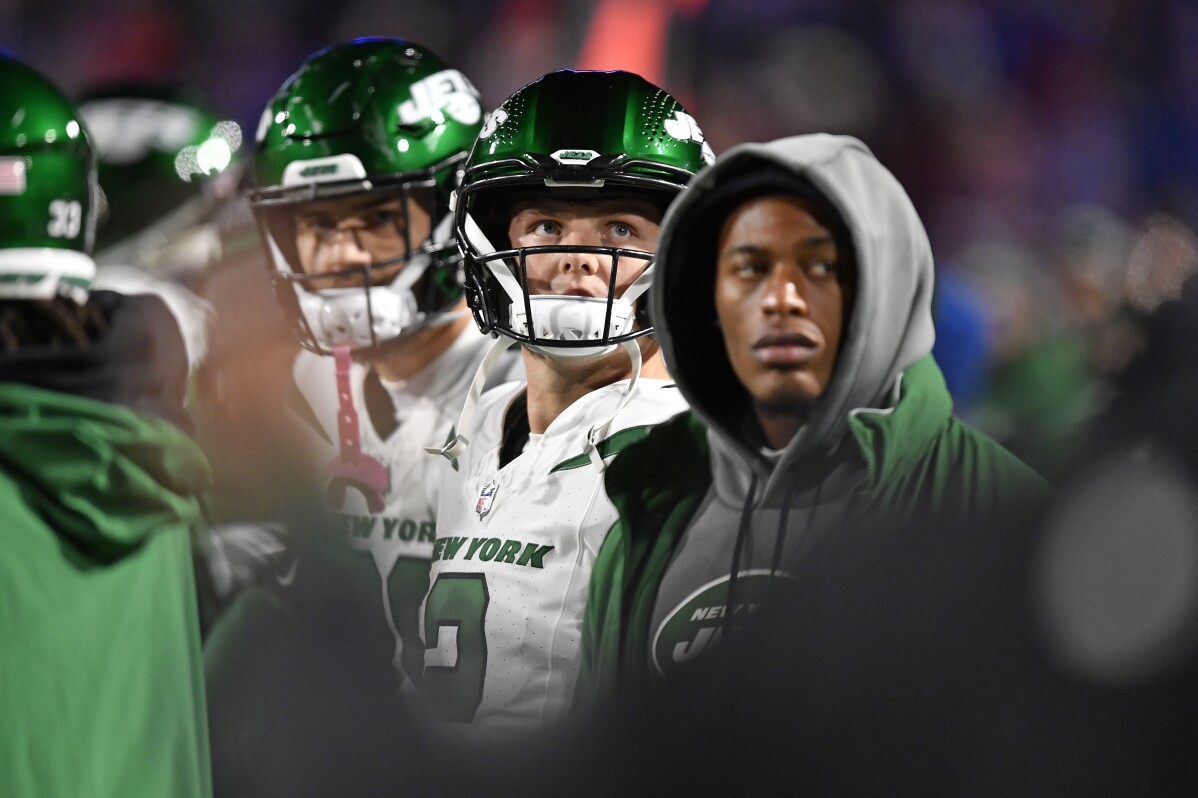 1 of 7

|
New York Jets quarterback Zach Wilson, center, stands on the sidelines after being pulled from the NFL football game against the Buffalo Bills during the second half in Orchard Park, N.Y., Sunday, Nov. 19, 2023. (AP Photo/Adrian Kraus)
1 of 7
New York Jets quarterback Zach Wilson, center, stands on the sidelines after being pulled from the NFL football game against the Buffalo Bills during the second half in Orchard Park, N.Y., Sunday, Nov. 19, 2023. (AP Photo/Adrian Kraus)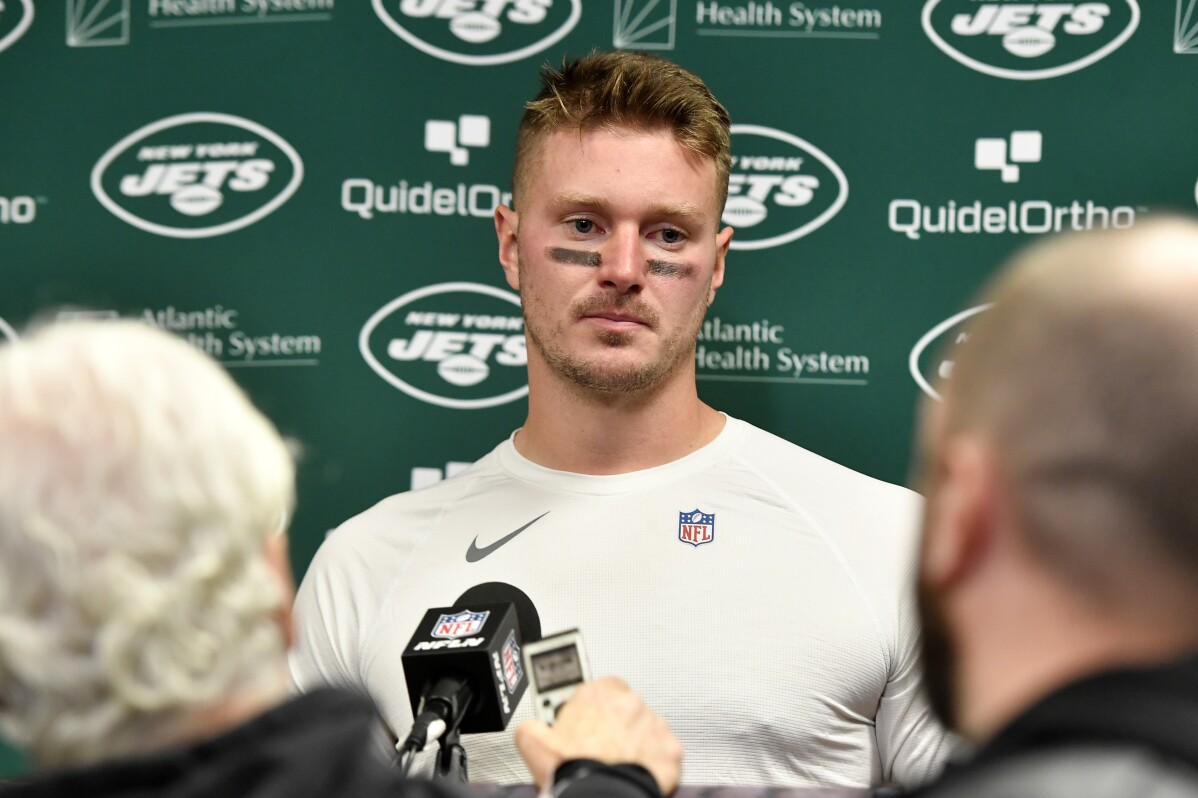 2 of 7

|
New York Jets quarterback Tim Boyle meets with reporters after the team's NFL football game against the Buffalo Bills in Orchard Park, N.Y., Sunday, Nov. 19, 2023. The Bills won 32-6. (AP Photo/Jeffrey T. Barnes )
2 of 7
New York Jets quarterback Tim Boyle meets with reporters after the team's NFL football game against the Buffalo Bills in Orchard Park, N.Y., Sunday, Nov. 19, 2023. The Bills won 32-6. (AP Photo/Jeffrey T. Barnes )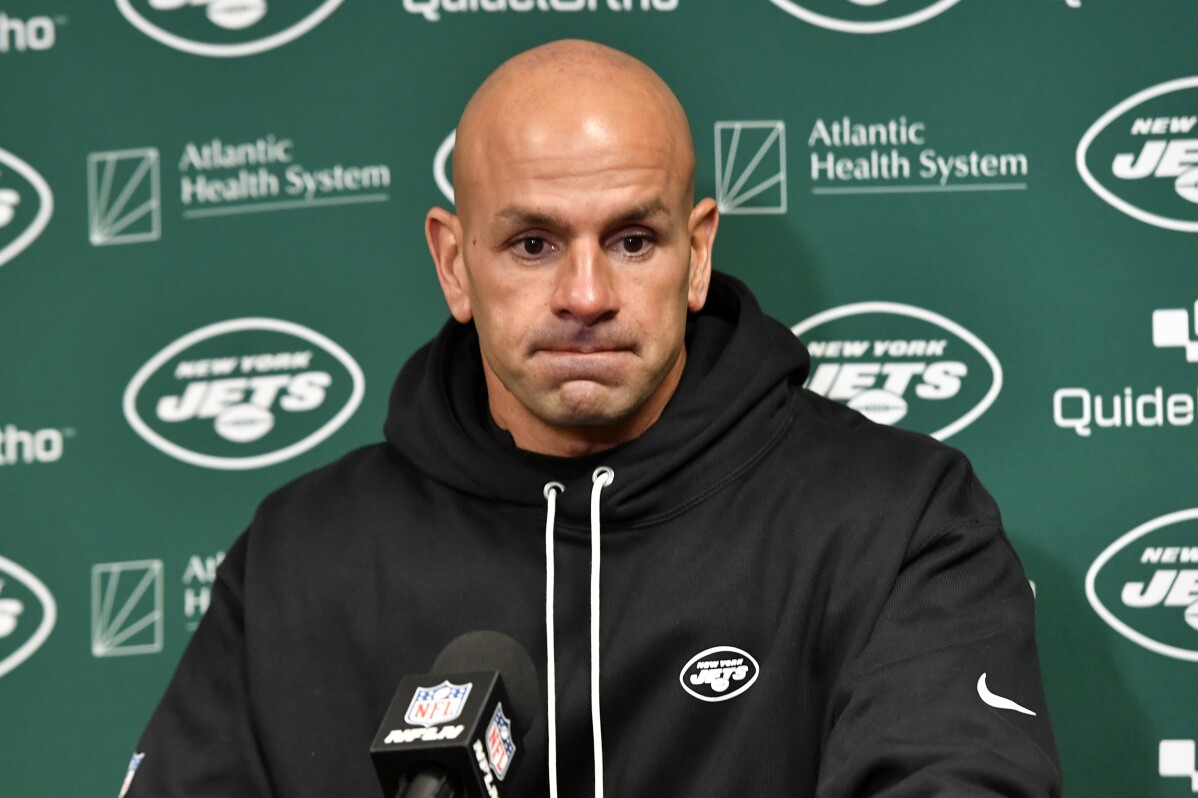 3 of 7

|
New York Jets head coach Robert Saleh meets with reporters after the team's NFL football game against the Buffalo Bills in Orchard Park, N.Y., Sunday, Nov. 19, 2023. The Bills won 32-6. (AP Photo/Jeffrey T. Barnes )
3 of 7
New York Jets head coach Robert Saleh meets with reporters after the team's NFL football game against the Buffalo Bills in Orchard Park, N.Y., Sunday, Nov. 19, 2023. The Bills won 32-6. (AP Photo/Jeffrey T. Barnes )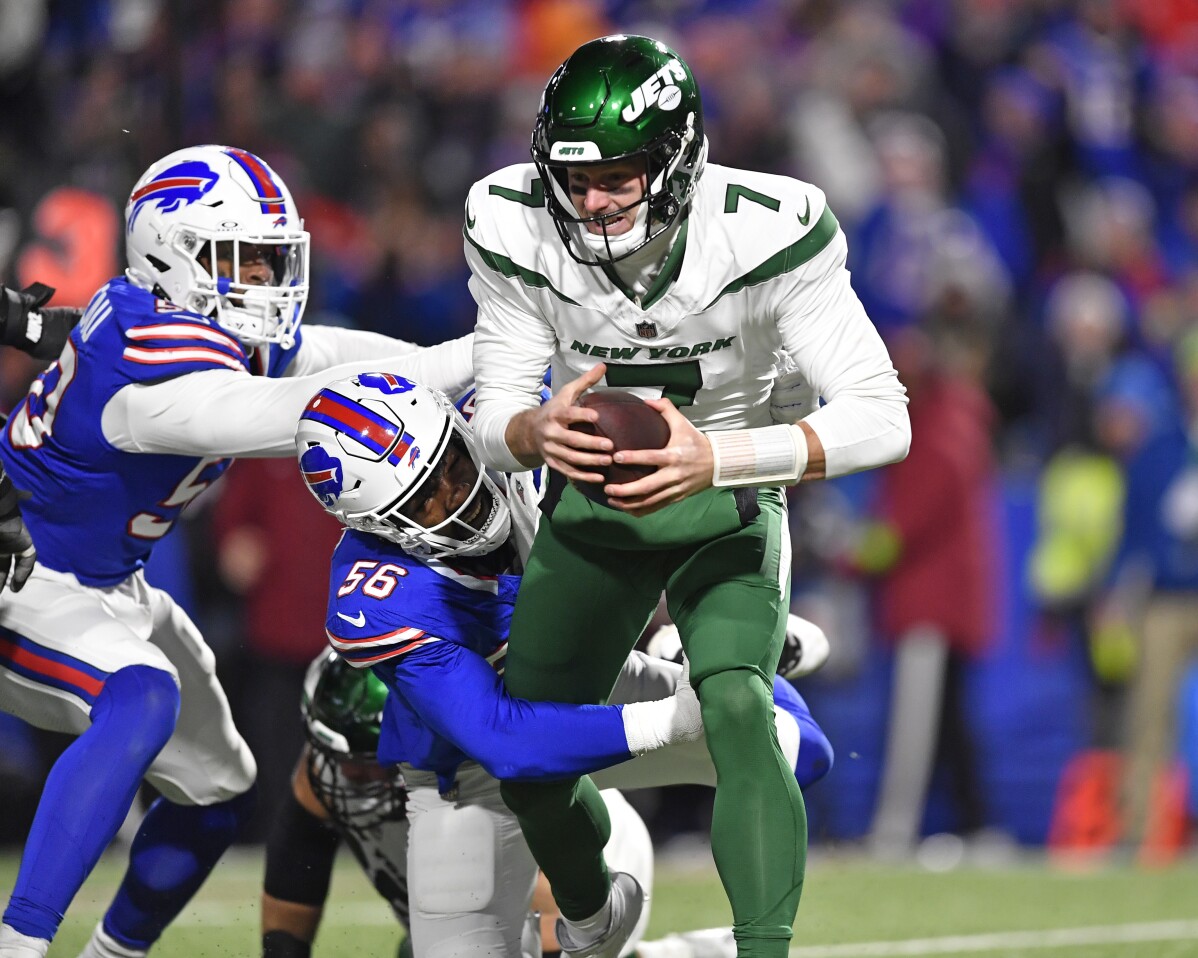 4 of 7

|
New York Jets quarterback Tim Boyle (7) is sacked by Buffalo Bills defensive end Leonard Floyd (56) during the second half of an NFL football game in Orchard Park, N.Y., Sunday, Nov. 19, 2023. (AP Photo/Adrian Kraus)
4 of 7
New York Jets quarterback Tim Boyle (7) is sacked by Buffalo Bills defensive end Leonard Floyd (56) during the second half of an NFL football game in Orchard Park, N.Y., Sunday, Nov. 19, 2023. (AP Photo/Adrian Kraus)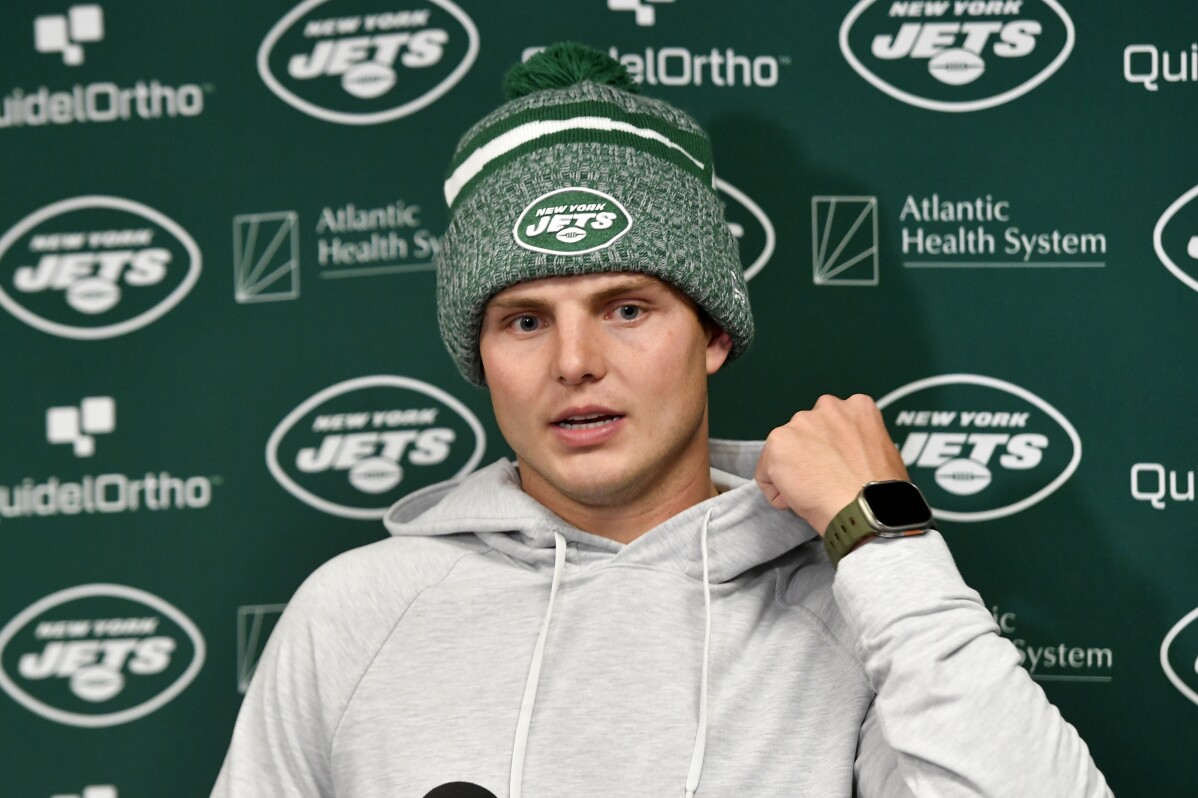 5 of 7

|
New York Jets quarterback Zach Wilson meets with reporters after the team's NFL football game against the Buffalo Bills in Orchard Park, N.Y., Sunday, Nov. 19, 2023. The Bills won 32-6. (AP Photo/Jeffrey T. Barnes )
5 of 7
New York Jets quarterback Zach Wilson meets with reporters after the team's NFL football game against the Buffalo Bills in Orchard Park, N.Y., Sunday, Nov. 19, 2023. The Bills won 32-6. (AP Photo/Jeffrey T. Barnes )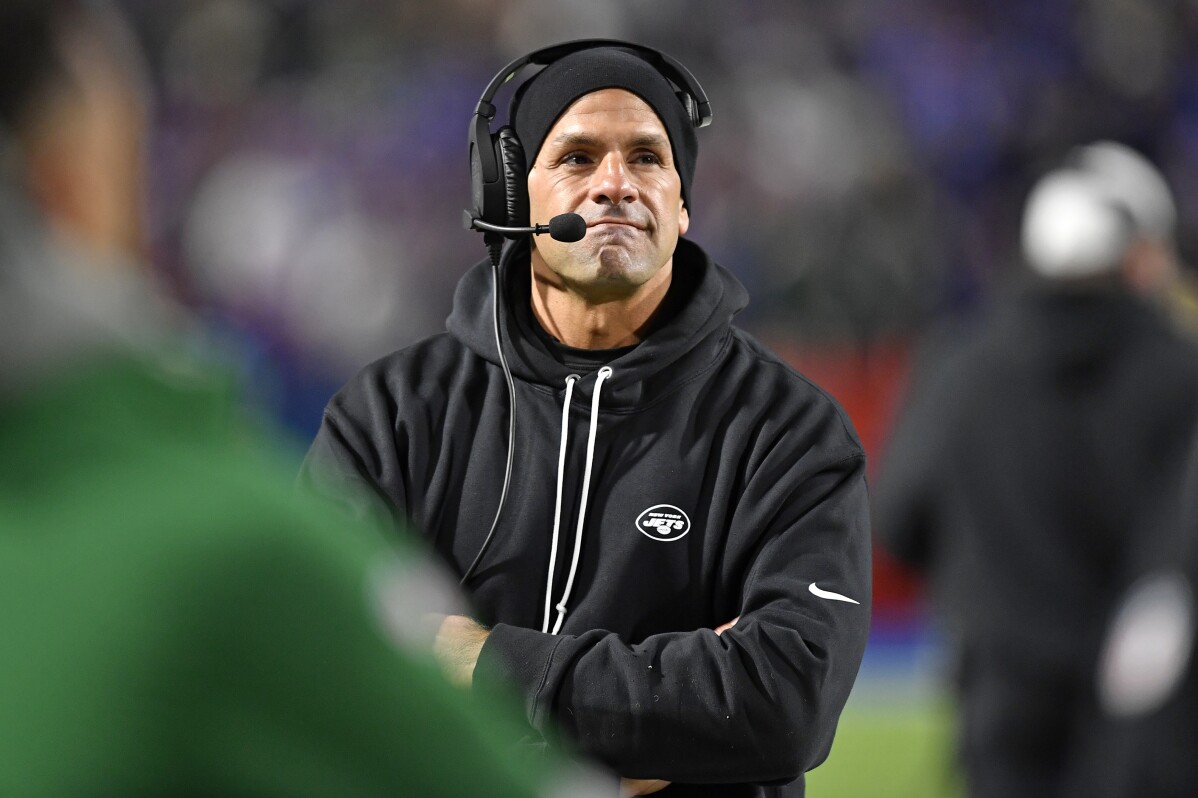 6 of 7

|
New York Jets head coach Robert Saleh looks at the scoreboard during the second half of an NFL football game against the Buffalo Bills in Orchard Park, N.Y., Sunday, Nov. 19, 2023. (AP Photo/Adrian Kraus)
6 of 7
New York Jets head coach Robert Saleh looks at the scoreboard during the second half of an NFL football game against the Buffalo Bills in Orchard Park, N.Y., Sunday, Nov. 19, 2023. (AP Photo/Adrian Kraus)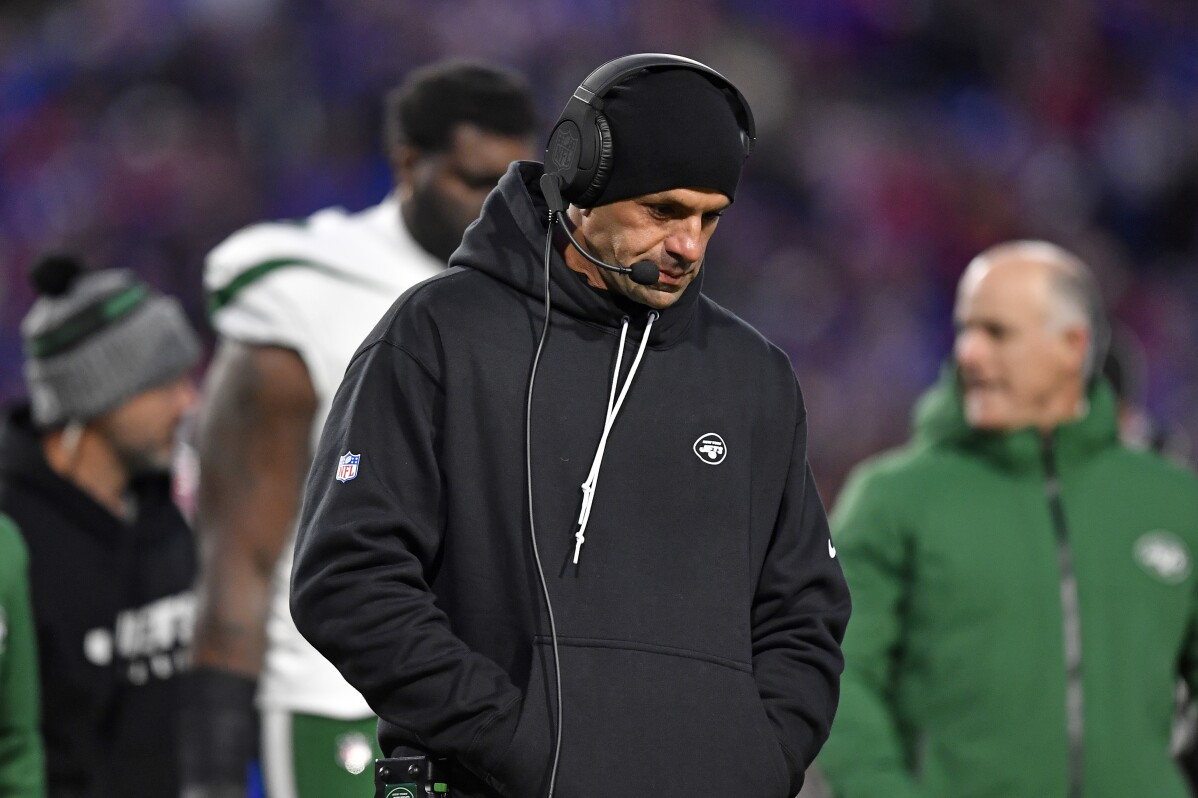 7 of 7

|
New York Jets head coach Robert Saleh walks the sideline during the first half of an NFL football game against the Buffalo Bills in Orchard Park, N.Y., Sunday, Nov. 19, 2023. (AP Photo/Adrian Kraus)
7 of 7
New York Jets head coach Robert Saleh walks the sideline during the first half of an NFL football game against the Buffalo Bills in Orchard Park, N.Y., Sunday, Nov. 19, 2023. (AP Photo/Adrian Kraus)
ORCHARD PARK, N.Y. (AP) — Zach Wilson is running out of opportunities and a key backer in his bid to keep his starting job with the New York Jets.
After spending weeks defending Wilson against growing criticism, coach Robert Saleh was noncommittal regarding his starter moving forward following the Jets' latest offensive dud in a 32-6 loss to the AFC East-rival Buffalo Bills on Sunday.
"We are going to watch the tape and we'll make a decision (Monday)," said Saleh, whose Jets (4-6) face a short week in preparing to play division rival Miami (7-3) on Friday. "We'll look at all of it. I'm not really answering those questions yet."
The coach opened the door for a quarterback change by benching Wilson and replacing him with backup Tim Boyle with 2:17 left in the third quarter. Neither was effective in an outing New York finished with season lows in total yards (155) and points, and finished 0 for 11 on third-down conversions against a Bills defense that began the game missing three key starters and ended it without three defensive backs.
Wilson went 7 of 15 for 81 yards and a touchdown — the Jets' first in three games — with an interception. Boyle went 7 of 14 for 33 yards and an INT.
"Frustrated, but I get it," said Wilson, the Jets' first-round draft pick in 2021 who has been starting since Aaron Rodgers tore his left Achilles' tendon four snaps into his debut in the season opener, leaving Wilson to lead the Jets' rally to a 22-16 overtime win against the Bills.
"When things aren't getting done, change has got to be made," Wilson said. "And I understand that."
The 29-year-old Boyle made his Jets debut after previous stints with the Packers, Lions and Bears.
"I thought Tim came in, he was decisive, he got rid of the ball," Saleh said. "He did some good things."
Perhaps, he should consider Thomas Morstead as an option, given the punter matched Wilson's longest completion — an 18-yard pass to tight end Jeremy Ruckert — of the game. Morstead's 18-yard pass to cornerback Brandin Echols on a fake punt on fourth-and-2 from his own 24 extended a drive that resulted in the Jets scoring their lone — and rare — touchdown.
More injuries on the offensive line have compounded the Jets' inability to sustain drives and score points. Left tackle Mekhi Becton did not finish the game after hurting his ankle in the first quarter. He was replaced by Carter Warren. Chris Glaser started at right guard, giving the Jets a different line combination for the seventh time in 10 games.
Wilson said the Jets' issues run deeper than a patchwork offensive line, and start with his position under center.
"I truly think this offense as a whole is an issue," Wilson said. "We have to be better as players, and we need to take accountability. That starts with me, and I'm not getting it done."
Coordinator Nathaniel Hackett's move from the sideline to calling plays from the coach's booth did little to ignite a Jets offense that has failed to score more than 13 points in four consecutive games.
And so much for the Jets getting any type of lift from a players-only offensive meeting held this week.
Saleh said he told Wilson that "it's not just him," after the benching, citing missed protections, poor route running and dropped passes. Top receiver Garrett Wilson, who was questionable to play with an elbow injury, was the intended receiver on Zach Wilson's interception, and he also lost a fumble in the fourth quarter.
"It's everyone right now," Saleh said.
Asked if the Jets offense was broken, Saleh would only say: "It's definitely an offense that needs to get better, let's put it that way."
"Scars sometimes accelerate the process," Saleh added. "And all of us got scarred today."
___
AP NFL: /hub/nfl